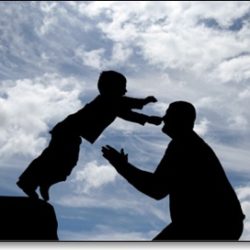 Father's Day is a day meant for celebration. A depiction might include Mom, Dad, the kids, maybe grandparents. Dad is manning the grill, beaming with pride over his newly acquired "World's Best Dad" t-shirt. The family gathers over their meal, lavishing cards and hugs upon Dad. It's idyllic.
But it's not always reality.
Divorce, custody, death, distance, even jail. Whether you're the Father separated from his children, or you're away from your own Father on Father's Day, the absence can be emotionally heavy.
If you are without your children on Father's Day:
Whatever the reason, absence does not erase your part in creating your perfect little humans. Nor does that fact make the distance between you easier. The best thing you can do when you're aching to embrace your children, is to take care of yourself.  We have all heard the spiel from flight attendants before a flight, reminding us to be sure to fasten our own oxygen masks before attempting to help anyone else with theirs. There will come a time when you are reunited with your children, and you will want to be at your best for them.
Spend your day waking up late, reading a book, taking a long shower, hit the gym, get a massage. Take care of yourself.
If you are without your Father on Father's Day: 
If you have your own children, that can certainly dull the sting of being without your Father on Father's Day. Even still, it can be hard not to feel a sense of loss. If possible, give Dad a call. Though a phone call can't make up for a lack of in-person affection, the gesture helps. Dad knows you're thinking about him.
What about those who never had a Father:
Its natural to still feel a loss from a lack of relationship, but this is another instance where self-care is imperative. Their lack of involvement does not reflect your worth. And if you have your own children now, it certainly does not affect your ability as a Father.  Happy Father's day to you.