Mario J. Zappia is a Certified Family Law Specialist, as Certified by the Family Law Certification Board.  With fewer than 100 Family Law Specialists in the state of Indiana, this designation identifies Mario as an attorney with expertise. A Certified Family Law Specialist  must have a legal practice with substantial involvement in  family law cases, some of which include divorce, legal separation, adoption, custody, child support, Child in Need of Services, (CHINS), and grandparents rights. An example of 'substantial involvement' would be a practice consisting of more than 50% Family Law Cases. They must also provide references of five lawyers , as well as meeting good character requirements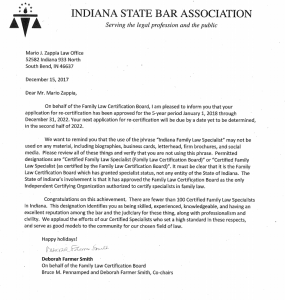 Not only are there practice requirements, there are also education requirements to be a Certified Family Law Specialist.  Attorneys must participate in a minimum of thirty-six hours of continuing legal education within three years of application. This means that a Certified Family Law Specialist goes above and beyond their Indiana State Bar requirements.
A Certified Family Law Specialist must also pass a rigorous written exam in order for consideration for certification. The written exam covers family law, as well as professional responsibility, ethics, and differences between Indiana law and general law.
Once all of the pre-requisites have been completed, the Family Law Certification Board makes the decision to approve the  candidate.
Maintaining status as a Certified Family Law Specialist also requires re-certifying. The re-certification process requires an application process similar to the initial certification process.
When looking for a divorce lawyer,  an attorney to act as mediator, legal representation in a custody or child support modification, looking for someone with the Certified Family Law Specialist credential will ensure the highest level of expertise in family law. Mario J. Zappia's Certification as a Family Law Specialist displays his skill, his work ethic, his reputation, and his commitment to practicing family law.