Is My Divorce Going to Destroy My Children?
When considering the idea of pursuing a divorce, certainly the question of how it will affect the children arises. Is the divorce going to destroy the children? In a word, no. But, that is not to say that divorce does not provide an impact to children at any age.
One perspective is that parents of infants or young toddlers may have an advantage over older children because the children are too young to understand a change is happening. In reality, babies require a different set of considerations when it comes to divorce.  For instance, more frequent, short visits are better for parenting time with an infant or young toddler. Overnight visits may be more of a hindrance than beneficial. Not to mention, as soon as object permanence has developed, babies notice when mom or dad is not around. And while they may notice something has changed, they lack the ability to verbalize that it's bothering them.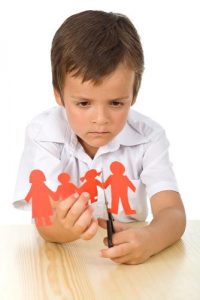 For parents of school aged children, divorce can have a negative impact on behavior at both home and school. School is frequently the environment where children display the distress that comes with divorce.  These children typically have a sense that they have no control in the situation that their family is going through. They often display this lack of control by acting out in aggression, regression, withdraw, and defiance. In addition, these kids have the mental wherewithal to understand that one or both of their parents have made the choice to no longer live together as a family.  That can leave kids with fears of abandonment and self blame.
What can you do? As with most scenarios, the best way to soften the blow of divorce at any age is to be sensitive to your child and their needs. They need security, they need continuity, they need routine, and they need their parents to be kind to each other in their presence.